Anal Trainer Kit from Real Vibes – 4 Butt Plugs – Beginner Starter Set – Personal Lubricant – 100% Medical Grade Silicone – Hypoallergenic (Kit with 4.5g Lube)
4 PLUG SIZES – Small 4 x 1 inches – Medium 4.5 x 1.12 – Large 5 x 1.25 – XLarge 6.25 x 1.5

UNIQUE GRADUAL TRAINING KIT – Safely explore and train for larger sizes with more length and girth. Has material of the safest quality and contains no latex or phthalate.

GENTLE INSERTION – Narrow rounded tips allow for a comfortable, easy glide and no discomfort due to the natural contours and soft silky material.

100% MEDICAL GRADE SILICONE – Made from the safest high quality material, itês latexfree, phthalatefree and hypoallergenic. Cleaning is very easy with a little warm water and regular soap.

SUCTION CUP & FLARED BASE – The flared bottom handle acts as a dual functioning suction cup and safety stop. This allows for handsfree fun or prolonged wear without the worry of it slipping inside.
---
Product Description
Enhance Your Sex Life and Intimate Play with Soft, Silky, Flexible Silicone Butt Plugs.
Anal sex is a completely natural, enjoyable experience for many, many people around the world. But so often people are afraid to try it because they don't know how to get comfortable enough to enjoy it. That's why Real Vibes has created the Anal Trainer Kit. If you're interested in adding anal play to your bedroom experiences, there's no better kit to help you get started than the Anal Trainer Kit.
100% Medical Grade Silicone so you know it's Hypoallergenic.
Complete with four butt plugs that gradually increase in size, the Anal Trainer Kit is made with 100% pure silicone so it's soft, flexible and gentle on even the most sensitive skin.
4 plugs of increasing size

Soft, flexible & smooth texture

Gently tapered tip for comfort

With each size comes increased pleasure

Hypoallergenic & nontoxic

Suction cup for stability

No Phthalate or Latex

Discreet packaging
Dual functioning flared bottom acts as a suction cup and a safety stop. Go handsfree without worry.
Dimensions: Length and Girth (in)

Safely explore and train for larger sizes with more length and girth.

Small 4 x 1

Medium 4.5 x 1.2

Large 5 x 1.25

XLarge 6 x 1.5

Small and Portable

Pack them easily in your carry on, briefcase, purse, or even your pocket.

When you're feeling that urge to practice or just want to feel those forbidden sensations, any private place is as good as any.

Whether you're at the pool, the sauna, even in your home office. All you need are a few minutes to explore something new.

Strong Suction

Get ready to enjoy hands-free use.

With the powerful suction, you'll be free to do anything with your hands. Attaches to any smooth surface:

Tile

Glass

Mirror

Window

Drywall

and many others
Durable Smooth Design

Designed with natural contours, gently tapered tips and soft silky material, they glide easily with no discomfort.

The durable material is also waterproof and can withstand temperatures as high as boiling water.

Use in the shower, bath or jacuzzi.

Just make sure to use plenty of lube.

Water Based Lubricant

There is only one lubricant that can be used with silicone plugs: WATER BASED.

All other lubes, such as oil based or silicone based, can be very corrosive to the silicone material.

For a long lasting life, use only water based lube.

A 4.5 gram sample lube packet is included in the Real Vibes Anal Trainer Kit.

Discreet Packaging

Is the packaging discreet?

Absolutely

Your item will be shipped in standard packing.

The product itself will be placed in a plain polybag with very minimal markings.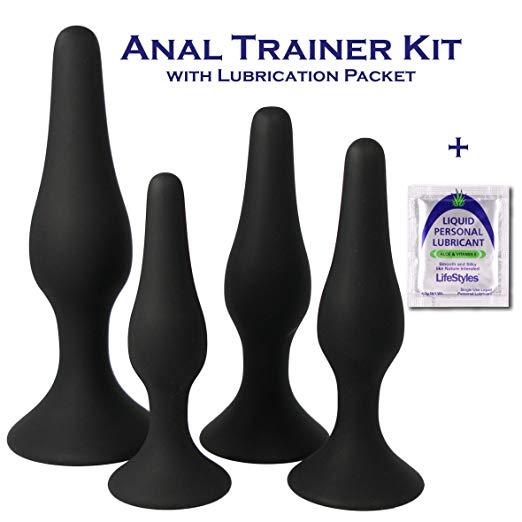 Anal Trainer Kit from Real Vibes – 4 Butt Plugs – Beginner Starter Set – Personal Lubricant – 100% Medical Grade Silicone – Hypoallergenic (Kit with 4.5g Lube)