Juntame – Vibrating Butt Plug – Anal Sex Toy with Waterproof
Butt Plug has a long lasting 1.5 hour battery life and is travel friendly

100% Waterproof Medical grade silicone anal plug is hypoallergenic, latex & phthalates free

Unique spiral design for increased anal stimulation

Removable Vibrator to use the Butt plug and bullet separately for multi-point stimulation

Discreet Packaging and fast shipping, so you'll get your butt plug fast and privately
Categories: Anal Toys, Vibrators, Women Sex Toys
Tags: anal plug, anal toys, best anal plug, best butt plug, butt plugs, condom with dots, dildo, doll sex, india porn, indian penis, man sex toys, masturbator, men sexual toys, penis enlarge, pennis enlargement, sex in india, sex shop, sex tots, sex toy for man, sex toys, Silicone Vibrating Butt Plug, toyromance, toyromance.com, toys for sex, Vibrating Butt Plug Silicone Waterproof
Removable Vibrator (Use Together or Separately)
Featuring a 2 in 1 design with a removable bullet vibrator means double the fun. Use together for maximum anal play or separate to have multiple points of pleasure. The only limit is your imagination.
100% Waterproof and Body-Safe
Take your fun out of the bedroom and into the bath; the Corkscrew vibrating butt plug can do it all. This is the perfect toy for all your water play needs, whether your taking a hot shower or have it fully submerged in the tub. Simply tighten the vibrator cap and you're ready to go.
Revolutionary Spiral Design
You'll feel every curve of the Corkscrews soft touch as you let it take your anal play to the next level. With its delicate spiral design, insertion is an easy twist and the soft spiral edges will carry vibrations to where they matter most.
Everything Is Sweeter With a Little Honey
The Corkscrew Vibrating Butt Plug by Juntame is the perfect companion for all your anal play needs. Created with the highest quality medical grade materials, the velvet soft silicone is sleek, seamless, waterproof, and safe for your body's most intimate areas. Featuring a unique soft spiral design and a removable bullet vibrator you'll experience worlds of pleasure like never before.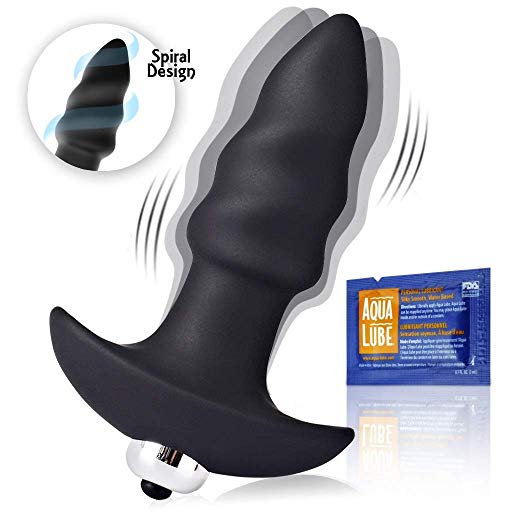 Juntame – Vibrating Butt Plug – Anal Sex Toy with Waterproof