Pink B.O.B. – Textured Silicone Tongue Vibrator with 7 Powerful Vibrating Functions
NUBBY TEXTURED TONGUE: provides amazing stimulations; Curved tip to reach your clitoris and g-spot easily during masturbation or intercourse
7 VIBRATING FUNCTIONS: so you can find your favorite speed, pulsation, or escalation that makes you orgasm fast
HIGH-QUALITY SILICONE: Velvety soft and safe for those with sensitive skin; use only with water-based lubricants
SIZE: Length: 6.25″ | Insertable Length: 2.75″ | Diameter: 1.4″ | Material: Silicone | Requires: 2 AAA batteries (not included)
TEXTURED & CURVED VIBRATOR FOR G SPOT AND CLITORAL STIMULATION
The Nubby Tongue Silicone Vibrator was designed with a curved shaft so it can easily reach your g spot or clitoris! Insert the textured shaft into your vagina to enjoy powerful vibrations against your g spot for an intense climax. You can also hold it against your clit during masturbation or intercourse.
It is made from high-quality silicone so it has a smooth, silky finish that will feel amazing against your skin. Because it is made from silicone, it is hygienic and hypoallergenic so anyone can use it!
Choose from 7 different functions of vibrations, pulsations, and escalations. The intensity of vibrations varies depending on the function you choose, so you can start out slow and gentle and increase the speed and intensity until it brings you to climax!
FEATURES
7 vibrating functions

Nubby textured shaft

High-quality silicone material

Curved shaft for g spot and clit stimulation

Requires 2 AAA batteries

Total Length: 6.25″ | Insertable Length: 2.75″ | Diameter: 1.4″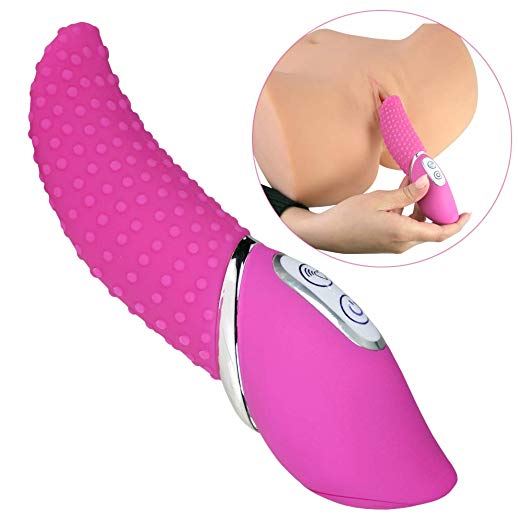 Pink B.O.B. – Textured Silicone Tongue Vibrator with 7 Powerful Vibrating Functions